Omni Amelia Island Plantation Resort - Host Hotel, SuperConference 2016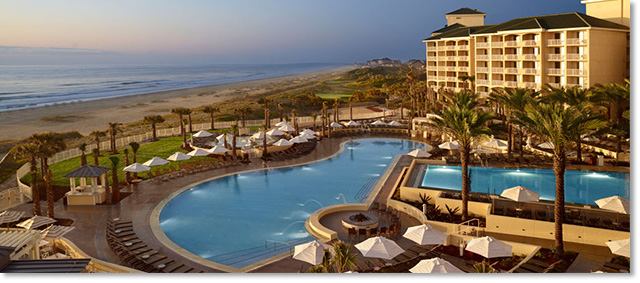 View a map of all resort details.


Visit the Omni Amelia Island Plantation Resort web site.


Watch a video overview.
The Omni Amelia Island Plantation Resort is nestled on 1,350 acres at the tip of a barrier island just off the Northeast Florida coast. Enjoy luxurious oceanfront accommodations, world-class resort pools, championship golf, full-service spa, endless dining options and family-friendly activities.
Enjoy the best Amelia Island Golf on one of our three Audubon International Certified Sanctuary courses, relax on the largest multi-tiered pool deck in Northeast Florida, featuring an adults-only infinity edge pool, a 10,000 square foot family-friendly pool, Splash Park water playground for the kids, two hot tubs and oversized fire pits - or enjoy a delectable meal at one of our nine superb restaurants.

Escape with us to SuperConference 2016!



Standard Room Amenities
Breathtaking ocean views
Furnished balcony or patio
Modern beach décor
Serta Pillow Top mattress with 330-thread-count Egyptian cotton sheets and lightweight duvet
Coffee maker with premium coffee
Hairdryer

Iron and ironing board
In-room refrigerators
Exclusive skin care products
Working desk with convenient outlets and ports
Flat panel HDTV with cable channels
iHome clock radios with iPod docking stations
WiFi Internet service
Amelia Island, Florida
A Southern jewel in the Sea Island chain of barrier islands, Amelia Island has 13 miles of pristine, uncrowded beaches framed by natural beauty.

Named for Princess Amelia, daughter of George II of Great Britain, Amelia Island is the only place in the United States to have been under the dominion of eight different flags. It's been home to an array of cultures and colorful characters: Timucuan Indians, European explorers, pirates, bootleggers, Gilded Age millionaires, and shrimpers all make up the colorful tapestry of this treasured island's rich history. They've left behind a legendary legacy (and much to explore.)

One recongnizeable home, a former sea captain's residence located in Old Town, was used as Pippi Longstocking's home in the movie that was filmed on Amelia Island in the late 1980's.
Shopping
At Omni Amelia Island Plantation Resort, we have some of the best shopping on the Island. With local boutiques, familiar designers, gourmet food and fabulous art galleries, The on-property shops provide the perfect escape from the day-to-day grind.

The rest of Amelia Island is covered with shops offering shimsical, artisan, local, one-of-a-kind treasuresas unique as its beaches, landscapes, and rich history. What you find here you won't find everywhere.
Art
Amelia Island's natural beauty has long been both an inspiration for artists and a draw for talented creators from around the world who have relocated here.

Historic Downtown Fernandina Beach on Centre Street
Start off in Historic Downtown Fernandina Beach on Centre Street. You won't easily miss the Blue Door Artists gallery. A set of colorful stairs leads the way to the contemporary space featuring a variety of mediums and genres from nine unique island artists including Casey Matthews, an award-winning artist has sold to private collectors throughout North America and Europe. Theresa Daily's land and seascape paintings line the walls, creating a feel of being on the ocean. The gallery also sells gifts & accessories, jewelry, cards, and also offers classes.

If you're short on time, but want to sample some of the local creations, the Island Art Association Gallery on 2nd Street is the perfect place to stop in to view works from more than 50 local exhibiting artists. More than 200 local artists are members, ranging from photographers and sculptors to painters and jewelry makers.

Head south on 2nd Street to be one of the first to visit a new addition to the arts scene, the Gilded Dolphin Art Studios and Gallery. Head upstairs to the airy, light-filled studios that showcase a range of works from paintings to stationery to photographs and the creators are a friendly group who readily share their favorite tips for enjoying Amelia Island.

Stroll just off Centre to the corner of 3rd and Ash and look for the whimsical pink house that is the home of Sandra Baker-Hinton's Amelia SanJon Gallery. Baker-Hinton's collection of watercolors, acrylics, glass, jewelry and more lines the walls of the building. The space feels as though you are stepping into her living room with its cozy vibe and variety of pieces available in the historic space. The gallery also houses pieces from other local artists ranging from tapestry to classic oil paintings.
Attractions
Heron's Cove Adventure Golf (on property)

This family-friendly miniature golf course named after Amelia Island's signature bird, the great blue heron, is located underneath a beautiful canopy of live oaks featuring 18 nautically themed holes. Escape the sun for an afternoon of friendly competition to see who gets that h ole-in-one!

Open Daily. Prices subject to change.


Fort Clinch State Park (9 miles)

At over 1,400 acres, Fort Clinch State Park is situated on Florida's northernmost barrier island- Amelia Island. The park provides exceptional recreational activities immersed among beautiful natural communities, as well as wildlife viewing, historic attractions and unparalleled living history interpretive programs.

The park's 3-mile shoreline and a 1/2–mile long fishing pier offer a wide variety of family-friendly recreational activities including swimming, fishing, sunbathing and wildlife viewing. Shelling and shark-tooth hunting are popular activities near the pier and along the St. Mary's Inlet. 68 campsites and a large group camping facility offer unparalleled overnight experiences in the Real Florida! Enjoy miles of bicycling on the historic oak-canopy drive, or for the more adventurous, hiking & biking the 6-mile off-road multi-use trail. The Park offers a guided nature walk at the Willow Pond Nature Trail every Saturday at 10:30 a.m.

Visit historic Fort Clinch & step back to the year 1864, as soldiers reenact life during the Civil War. Explore the many rooms, galleries and grounds of the fort as you learn how the soldiers worked and lived each day. Today, park staff provide living history interpretations of the life of a Union soldier, a 1st New York Volunteer Engineer, who garrisoned the fort during the Civil War. The Fort is open 365 days a year from 9am-5pm. An additional $2.00 per person Fort Entry Fee is required.


Jacksonville Zoo and Gardens (28 miles)

The Jacksonville Zoo and Gardens, located in Jacksonville, Florida, sits at the mouth of the Trout River. The Zoo occupies approximately 117 acres (47 ha) and has over 2,400 animals in its collection. The Zoo has grown from its modest beginnings in Springfield to be considered one of the city's premiere attractions, with more than 800,000 paying visitors in the last year.

The Jacksonville Zoo and Gardens' marquee attractions are the Range of the Jaguar, which won the 2005 AZA Exhibit of the year award and the Land of the Tiger which opened in 2014 and features an innovative walk-through trail system for the two Sumatran and three Malayan Tigers. Also included in the Land of the Tiger are wreathed and wrinkled hornbills, Visayan Warty pigs, Babirusa pigs, and Asian small-clawed otters. The Zoo's other exhibits include the Plains of East Africa, highlighting African savanna animals; Great Apes of the World, featuring two of the four great apes among other primates; the Australian Outback, including lorikeets, cassowarys, and kangaroos; and Wild Florida which features animals native to the state of Florida.

The Zoo is active in animal conservation, participating in more than 50 national and international conservation initiatives and more than 95 SSP (Species Survival Plans.) In 2004, the zoo reached an agreement with the nation of Guyana to help promote conservation in that country, particularly the Iwokrama Rainforest. Additionally, since 1999 the Zoo has been home to a large breeding colony of wild wood storks.


Timucaun Ecological and Historical Preserve (30 miles)

The Timucuan Ecological and Historic Preserve is a U.S. National Preserve in Jacksonville, Florida. It comprises 46,000 acres (19,000 ha) of wetlands, waterways, and other habitats in northeastern Duval County. Managed by the National Park Service in cooperation with the City of Jacksonville and Florida State Parks, it includes natural and historic areas such as the Fort Caroline National Memorial and the Kingsley Plantation.

The preserve was established in 1988 and expanded in 1999 by Preservation Project Jacksonville

The Fort Caroline National Memorial is located in the Timucuan Preserve, as is the Kingsley Plantation, the oldest standing plantation in the state. The Preserve is maintained through cooperation by the National Park Service, the Florida Department of Environmental Protection and the City of Jacksonville Department of Parks and Recreation. It is named for the Timucua Indians who had 35 chiefdoms throughout northern Florida and south Georgia at the time of Spanish colonization.


Jacksonville Museum of Science & History (36 miles)

The Museum of Science and History (MOSH) is a museum in Jacksonville, Florida, USA. It is a private, non-profit institution located on the Southbank Riverwalk, and the city's most visited museum. It specializes in science and local history exhibits. It features a main exhibit that changes quarterly, three floors of permanent exhibits, and the Bryan-Gooding Planetarium

The last building renovation occurred in 1994 resulting in a total of 82,200 square feet (7,640 m2). In 2010 the Planetarium was upgraded with a new projector, sound system, and interior work, and renamed the Bryan-Gooding Planetarium